Hobo with a Laptop's guide for digital nomads living in Chiang Mai, Thailand. Learn about visa requirements, cost of living, best time to visit, what to pack, what not to pack, how to setup a mobile phone, where to rent a motorbike, find an apartment, groceries, gym, and more.
You weren't expecting this much information in a single blog post. If you find this post useful –like, really useful, be a friendly stranger and please share it.
For detailed Thai visa information read our updated guide to Thailand visa types, requirements, immigration, and visa run routes from Chiang Mai –we had to move it into it's own post because it's too massive for this one.
This post is also a companion to our How to Become a Digital Nomad guide. Add this page to Pocket and save it for later.
Digital Nomad Escape Plan (2015 – 2019)
After writing one of the most popular guides to living in Chiang Mai Thailand for digital nomads and making several major updates, I decided to write this concentrated summary post about living in Chiang Mai before removing location-specific information from the next iteration of Digital Nomad Escape Plan: Redux (2020) ™️.
This post is a summary of key information found in the 2017 version of the ebook.
After thousands of free downloads I have to admit that an ebook isn't a very good format for making consistent content updates, so the next and final iteration of Digital Nomad Escape Plan will be an interactive course that will be released later this year.
I pledged that the original content of the book would be "free, forever" and I uphold that promise with the content found on this blog.
The course is for those who requested more of me, as I've turned down just about every single coaching request since 2017 because I was too busy with our side hustle –and any time in between was spent on taking courses myself, building out a number of websites to generate a passive income, or burning away my pasty white skin here living in the Philippines with my wife.
The original Digital Nomad Escape Plan was light, in the sense that it focused on everything other than making money online –a key concern for digital nomads who are just starting out.
In the upcoming DNEP:Redux course will I go into great detail about how I make money online to support my 7+ years as a digital nomad. I've made every mistake you can imagine, and have gone from Hobo to 'flashpacker' in the years since it's initial release.
In the meantime, you can grab the latest edition of Digital Nomad Escape Plan at no charge while it's still available as an ebook.
If you've already read a previous iteration of Digital Nomad Escape Plan's Chiang Mai edition, I'd really appreciate a testimonial or review in the comments below!
Want 4-Hour Workweek for Free?
This book was one of the first to kickstart my journey to
become a digital nomad
. While some parts are a wee dry, no one can argue that this book is a must-read.
Right now you can get the 4-Hour Workweek audio book for free if you sign up for Audible and grab a 30-day free trial. Cancel anytime, no questions asked.
Get 4HWW for Free with Audible
Living in Chiang Mai
The primary draw for living in Chiang Mai is how affordable it is although there is also a second, and that is the proliferation of digital nomads themselves.
It can get lonely nomading around the world.
Most people in my life back home still don't understand the concept, so there is something sanity redeeming about surrounding yourself with people who get it and are doing the same thing. Especially if they're at the same level you are with work and life.
Most of us are at some level of beginner. If we were all honest with ourselves, we'd see we're always beginners –no one is born understanding the nuances of every culture they pass through, and it can lead to situations that are as humbling as they are hilarious.
A Petri Dish for Innovation
While of course there are probably nicer places to be, most digital nomads living in Chiang Mai will agree that it has the highest concentration of location independent entrepreneurs and professionals, no contest –with nomads living in Bali as the nearest competition for "digital nomad capital of the world".
And this is why living in Chiang Mai is one of the the best places to live in Thailand for many of us.
That, and it's cheap, hospitable, polite, endearing, and the locals make it so very welcoming. Amazing people, amazing scenery, even in the absence of a proper beach. It's a great launch point, and an even better place to put your head down and adjust to the digital nomad lifestyle.
If you ever start to feel different, it's time to get a move on again. (Any "Littlest Hobo" fans out there?).
So if your idea of the Promised Land is a safe place to live in the tropics that's teeming with helpful digital nomads, living in Chiang Mai is for you.
Why I Hope More People Go Nomad
Passports bleed life experience, and life experiences change how we feel in our home countries. Truth be told, that's my main mission with this blog. It always has been.
Travel is an antidote to ignorance. Developing a sense of global empathy, awareness, and understanding are all its side effects –and the personal experiences we take home with us bleed into how we govern our own lives, how we respond to people with views that oppose our own, who we cast a ballot for, and our approach to food and health.
You start to see patterns when you travel.
You see how developing countries strive to get ahead and the means of doing so. Sometimes gentle, and sometimes monstrous.
You see how past social unrest has shaped the present. You get a glimpse into our own Western future if we keep poking and prodding at one another.
Visiting a beautiful country like Thailand and other Southeast Asian countries that surround it like Cambodia, Myanmar, China, Vietnam, or the Philippines gives us an opportunity to learn how we might avoid regressing our own Western countries into developing countries by repeating their conflicted history.
When you ride through the rice paddies of Chiang Mai or hike Doi Suthep you're treading on a living museum. The dishes served in restaurants are a history lesson, and the culture a testament to the value of culture itself –no matter its roots.
And of course, these are not the only reasons to live in Chiang Mai. Let's elaborate on why Chiang Mai is the ideal starting point for an aspiring digital nomad, shall we?
Customs, Language, Culture, and Setting Expectations
For brevity, I'll explain what customs and social conventions exist, and not why they exist;
Don't touch the heads of kids, adults, or anyone; the head is sacred in religious circles
Don't touch people with feet, point with feet, etc. Feet are dirty and it's disrespectful
Cover up at temples or other religious areas; Ladies are required to show no skin on shoulders, bellies, thighs, and men should wear shirts
No kissing in public, nothing beyond holding hands
Don't touch monks and keep a distance from them (especially women)
Stand for the national anthem before movies at the theater and in town
Treat everyone you encounter with respect, especially women, and "ladyboys" too (Many of them are quite able to kick your ass)
Never get visibly upset
Don't play the hero; "saving face" is a complicated cultural aspect of life in Asia and getting involved in someone else's quarrel may get you in serious trouble
No selfies with pictures of the King, and no trash talk of any Government official, elected or otherwise –that's jail time
Most of these are a no-brainer, but on this end, I still see a need to mention them. Westerners often push their liberal dress code on the rest of the world when they're new –not recommended here.
Learning the Local Language
Chiang Mai digital nomads planning to stick around awhile may opt to learn the Thai language. It will enrich your experience and it isn't as difficult as you imagine.
Prices written in Thai are often lower, communication with locals can often save time and money while enriching your travel, and generally making your life easier over all. No matter the visa, I strongly suggest learning the Thai language when in Thailand.
While there are a number of Thai language course options, I suggest going with a private school that will also take care of your ED visa.
Free resources for learning the Thai language can be found here.
Getting Around
For the most part, Thailand has main roads and then a number of "soi" or "moo" that stem off of them. So for example, if you live on Nimmanahaeminda Rd soi 12, you live on the 12th street that stems off of Nimmanahaeminda Rd. It seems a little tricky and silly at first, but if you say "Nimmanahaeminda Rd street 12" no-one will know what you're talking about, so get used to using the word "soi" in a sentence.
Post Office
If you'd like to ship anything back home, there's a UPS-style post office in the lower floor of Maya Mall near the exit in the food court.
This private postal outlet is right next door to Rimping, and the address for Maya Mall and Rimping will appear on a series of maps later available for free download through the Resource page at the back of the guide.
I also suggest some very handy tools for sending or forwarding mail in the Tools section.
Food Tastes Different
I was not really sure where on earth to mention this, but orange juice is naturally sweeter in Thailand and will throw you when you first drink it. Pumpkin and other foods taste different as well!
Related Posts
There are a number of other posts related to living in Chiang Mai on Hobo with a Laptop, you may want to add this page to Pocket and read them all over a weekend;
And before all that, you may want to read our step-by-step How to Become a Digital Nomad guide. If the amount of information on Hobo with a Laptop is valuable to you, please be sure to share one of our best posts on social media!
Cost of Living in Chiang Mai
The city's greatest attraction for digital nomads living in Chiang Mai is the high quality of life that is possible with very little.
There are many other qualities that make life in Chiang Mai great; it's got festivals all year 'round, all the comforts of home, it's safe, and the WIFI speeds are decent.
Budget Expectations
The cost of living in Chiang Mai for 6 months depends on a number of factors; expected quality of living, food costs, emergency funds, or how much work you already have lined up, etc.
Everyone has a different opinion on this; after all, how long is a piece of string?
There is no accounting for personal taste: I came on a one-way ticket with $2,000 in my pocket and small ongoing projects totaling around $1,000 to $2,000 per month. 4 years later, I'd rather eat Balut than ever do that again.
Being thrifty is one thing –being broke and wearing it like a badge of honor is another.
Very Safe Estimate:
Let's prepare you for the long-game and suggest a proper budget for a safe transition into the digital nomad living in Chiang Mai Thailand.
Airfare (round trip) + Insurance + Startup Expenses + Monthly Expenses + Emergency fund
"Startup expenses" and "emergency fund" are more of a failsafe than anything. Startup costs mean paying deposits for a motorbike or an apartment, or to buy a motorbike outright. I suggest having $2,000 for startup costs.
Emergency funds are for any random medical treatment you may need outside of insurance coverage (i.e. a lot of insurance doesn't actually cover you riding a motorized vehicle), if you break something that doesn't belong to you, wake up in a bar bathroom with a 15,000-baht bill, whatever. I suggest $1,500 in emergency funds.
Nomad insurance for 6 months cost me $500 CAD, rates may vary.
In addition to this, if you're living like there's no tomorrow, you will still find it quite difficult to spend over $1,200 per month. I personally live on $3,000 per month with my wife and it's quite comfortable.
In the very least, have 20,000 baht (around $750 USD) for emergencies within reach at all times because border police may ask to see that you have enough to support yourself while visiting.
If you have an apartment in Thailand, then leave the country to do a visa run, and don't have 20,000 baht if asked –what do you think is going to happen to your possessions in that apartment if you can't return to it?
So now that 6 month equation looks a little more like:
Airfare (round trip) + $500 Insurance + $2000 Startup + $6,000 for 6 Months + $1,500 Emergency
That's an incredibly generous and safe estimate that is going to put you somewhere between $10,000 USD and $12,000 USD to live 6 months in Thailand (like royalty).
Total estimate: $10,000 – $12,000 USD
I've done it for much less, and most have. That number also includes what you have coming down the pipe with your online income.
When I was struggling I was able to live on $600 USD per month after startup expenses. If you come with a nice number like the one above in your pocket, you've earned yourself a lot more security than most arrive to Thailand with.
The Value of Money
$1 USD is roughly the equivalent of 33+ Thai baht (on average). Let that soak in for a moment. So $33 USD is around 1000 Thai baht.
Living in Chiang Mai comfortably will require a minimum of 1,000 baht per day including rent or guest house costs although you could get away with less.
However, it is not reasonable to think you will be able to live on less than $20 per day in the beginning.
Eventually you will "think in baht", but for now, let me break it down;
Mobile Phones & Data Packages
Monthly: $12.50 for unlimited data, incoming calls, 200 minutes outgoing
You can buy a simple prepaid mobile phone for 1,000 baht or less. A typical phone plan with data will range from 299 baht to 999 baht with AIS; Thailand's best phone company to opt for if you intend on traveling to more isolated areas and islands at some point.
Later in this guide I'll show you how to set up a data plan on your mobile phone.
Ookla's Net Index is a great place to find out the current average for broadband connections in Chiang Mai, Thailand. You can view Chiang Mai internet speed averages here.
Apartments, Houses, or Condos
Monthly: $122-$615
The cost of places to stay in Chiang Mai generally ranges from around 4,000 to 20,000 baht per month. That's $122 USD to $615 USD. And if you're paying the latter, you're living large. In some cases, we're talking full open concept kitchen, swimming pool, gym, cleaning staff, WIFI, water delivery, and utilities included.
Air conditioning is standard and utilities will cost between 1,000 to 2,000 baht, worst case.
It is worth mentioning that cheaper Chiang Mai apartments don't come with a kitchen. Occasionally you'll find a sink and food preparation counter on your balcony, but not always. A little strange, but you get used to it pretty quickly. Hot plates and propane stoves are common, and you can always find a new or a used microwave that another expat is leaving behind for free via a Facebook group.
Airbnb Tip:
Find a place you like on Airbnb and rent it for a week at the listed rate. Look for the flaws, check the water pressure, listen to the night time sounds outside your window.
If you like it, make them an offer to rent it off-app, monthly. Your offer for a full month should be about 8-10 days of the listed rate on Airbnb.
The reason for this is that few listings get rented more than 8-10 days per month, even in peak season. In most cases the landlord will be happy with your offer.
Sign up for Airbnb with this link and get up to $43 in credit that you can put towards your first stay.
Get $43 USD for Airbnb, Free!
With one-of-a-kind homes and experiences, Airbnb is a great way to travel. When you sign up, you'll get $31 off a home booking of $68 or more and $12 toward an experience of $45 or more. Coupons expire one year from date of sign up.
Get Airbnb
Groceries & Eating Out
Per meal: $1 – $7
For Chiang Mai digital nomads on a budget, you will have no difficulty finding excellent prepared meals for 35 to 50 baht on street level. Pad Thai, Khao Soy (my favorite Northern Thai food), Green Curry dishes and the like are all extremely affordable.
Fresh fruit smoothies and pressed juices can be purchased for 25 baht to 80 baht.
Moving up the food chain somewhat you can find Western meals at restaurants starting around 80 baht. I'd say most traditional Western dishes are in the area of 100 baht to 200 baht. So you can eat real good for less than the price of a McDonald's "trio" aka "value meal" (depending where you're from). This pricing also includes Western style breakfast like ham and eggs, breakfast burritos, and so on.
At the grocery store much of the exotic local produce (stuff that's expensive back home) is incredibly cheap, and imported produce (stuff that was cheap back home) can cost a pretty penny. I won't elaborate too much on groceries because you likely won't have a kitchen and the cost of eating out is almost the same as buying food at a grocery store and preparing it yourself.
Alcohol & Cigarettes
Large beer or cigarettes: $1.75 – $3.50
Beer drinkers will be in paradise. Large bottle (500ml+) local brews like Singha, Chang, and Leo can be purchased for 55 – 80 baht at your local convenience store, or 100 to 150 baht when you're on the town at a bar or restaurant.
Imported beers and wines cost a little closer to what you're probably already accustomed to back home. A bottle of wine starts around 350 baht, and large imported beers start around 95 baht (Heineken) and upwards.
Bicycles & Motor Bike Rentals
Monthly: $50 and up
You can rent a moped-style motorbike for 1,500 to 2,500 baht per month, or 100 to 200 baht per day. Bicycles can be rented for 50 to 100 baht per day.
I'll show you where to rent a motor bike in Chiang Mai later in this guide.
If you're planning on staying a year –buy your transportation, don't rent it. Bikes retain their market value in Thailand. You can use your bike all year 'round and end up only paying for gas with a little depreciation.
Motor bike prices will vary, but you can find one easily for less than 30,000 baht.
Taxis, Songthaews and Tuk Tuks
Starting at $1 per ride

In Chiang Mai, metered taxi cabs are less common, but don't worry. The options available around town are still incredibly affordable.
A red truck, aka "songthaew", is the cheapest public transportation option around. Songthaew is Thai for "two rows", referring to the two benches in the back.
You can take a ride across town for a dollar. If you prefer to take a Tuk Tuk, they cost a little more, and they're sometimes a little shady. I suggest you learn the value of your trip with a few rides on a red truck before using a Tuk Tuk.
In short, the minimum for a songthaew in town is 20 baht, and tuk tuk's start at 70 baht.
And beware of Tuk Tuk drivers at 2am, gents. They'll take your ass to a go go bar where the price of a drink is 2,000 baht. If they take you anywhere, if they claim to know a good spot –run in, check the menu. Insist. After dark, Tuk Tuk drivers become real assholes, but they don't get paid a commission unless you haplessly buy a drink. In other words, they wait to see if you do. Don't, and you can at least get a ride home.
Saving Money
As if it wasn't cheap enough living in Chiang Mai, Thailand –there are a number of ways you can further reduce your cost of living.
Don't Over Pay for Electricity
If you're paying over 8 baht per kWh unit for your electricity, you're paying too much. In fact, 8 baht per unit may be too expensive by anoyone's standards the world over.
1 kilowatt is 1,000 watts, and the price per kilowatt unit is billed by the hour (thus "kWh").
The average 12,000 BTU air conditioner uses around 1,200 watts per hour which is 1.2 kWh.
If you ran your 12,000 BTU air conditioner for 24 hours per day for 30 days at 8 baht per unit, you would have to pay 864 baht for your air conditioning alone, on top of the costs to run your other appliances. At the time of writing, that's almost $27 USD. That isn't cheap.
In addition to that, Thailand runs primarily on coal and in my opinion it doesn't matter how much you pay —that's a carbon foot print that you're leaving behind for my nephews and nieces. Not cool.
Use Water Bottle Refilling Stations
Buying water in single bottles from the shop every day can get expensive and environmentally destructive. It's easy to look around and blame Thais for the trash or how they burn plastic –but it was our Western thinking that created the globalized supply chain, designed the packaging and rammed it down their throats. Least we can do is stop adding to the litter.
While a relatively new concept in some Western cities, Thailand has had time to build its massive network of water bottle refilling stations. These public appliances purify water through reverse osmosis and dispense clean drinking water for 1 baht per liter.
It's more ethical than buying water from a foreign company like Nestle, it's better for the environment (less plastic waste), they're usually more convenient, and putting your coins in these machines helps the local economy. You can buy a great water canteen here.
Chiang Mai digital nomads can also upgrade to water delivery service, where larger keg-sized containers are available, just ask around at your apartment.
You can also skip the gym membership and save around 60 baht per workout with 2 5L water jugs filled with tap water! Refilling the same plastic bottle longer than a week for drinking water isn't advised, so you can add to their lifespan and stay in shape at the same time.
Do Your Own Laundry
Laundry service in Thailand is generally quite cheap and it's easy to take for granted. And even still, you could save upwards of 30 baht to 40 baht per kilogram of laundry if you were to do it yourself. In my experience, everything dries pretty quickly when you're living in Chiang Mai.
I also tend to leave laundry detergent next to the bathroom sink to clean underwear and t-shirts as I go. Most of my clothes are Merino wool and dry relatively faster than cotton. You can find some crafty Merino wool clothing suggestions on my Digital Nomad Packing List.
Pro tip: Put Your Clothes in a Freezer to Kill Bacteria
Lastly, you can make your clothes last longer by sticking them in the freezer over night to kill the germs and bacteria that make them funk, and avoid cleaning them too often altogether. This is ideal for denim.
Travel Overnight
Traveling overnight on a bus or a train will allow you to sleep through the journey and save money on a room for the night. Throw in a "second class" seat and you're reducing travel costs even more.
House Sitting (or Pet Sitting)
I could suggest couchsurfing.com as a great way to save money on lodging, but there's an even better way; house sitting. Instead of getting a couch, get a whole home.
You can find out more about how it works with our Trusted House Sitters guide. The video below will help motivate you to do so. Sab's rad.
Rent a Motorbike
Tuk Tuks and Songthaews can add up after a while, so if you find that you're spending more the 150 baht per day on rides you may want to consider renting a motorbike instead.
Buy a Motorbike
If you are staying longer than 6 months, purchasing a motorbike is a good investment. You can pick up a 2 year-old 125 cc Honda Click for under 30,000 baht and they really hold their resale value. When it's time to head home, you can resell your motorbike and pay little more than fuel costs for your entire time in Thailand.
Avoid Western Food
Western food is often overpriced and the quality isn't what you remembered, so unless you're feeling homesick and it's a special occasion –skip eating imported Western food.
Discover How to Live "Thai Style"
Smaller Chiang Mai apartments in predominantly Thai neighborhoods often lack some of the Western home comforts like hot showers or proper kitchens but they're pretty alright in terms of living a more minimalist existence. Some come as cheap as 2,000 baht per month, all in.
Most expenses we incur as foreigners are because of Western comforts and idealized thinking –living as an authentic local can free up a lot of money if we're willing to cut back and readjust our comfort zone.
It took a couple years of resisting it, but today I bucket shower daily and I prefer it –even though I have a shower head and hot water.
Eat Thai Street Food
Restaurants can get costly after a while, and there's so much amazing street food all around you. No need to pay the overhead that comes with an uncomfortable seat and freezing cold air conditioning when you're on a budget. I've gone weeks without walking into a "real" restaurant and I don't miss it.
Why is it that so many people go to another country to experience the culture and then hide out in expensive Western glass palaces and eat recipes from Western food franchises? Because if it isn't for nostalgia's sake, I'm lost.
I'm also not a fan of coworking spaces for the same reasons, but that's just me. No poop flung at those that do.
There is no better way to watch a city awaken than by waking up to an espresso at 6am and a bowl of bone soup in an alley somewhere in South East Asia.
And by working from home, if you have the foresight to choose one with a view.
Avoid Bank Fees
While traveling I generally carry two wallets; a larger one I leave back in my room with the bulk of my cash in it, and then a second smaller, lighter one I take with me everywhere I go.
A two-wallet system allows me to take out larger amounts at the bank machine so I can make less frequent withdrawals and pay less fees but without losing everything if I get robbed or my wallet goes missing.
Transferwise is your lowest-cost, least hassle top international bank option, and they're great for wire transfers, too. I suggest you create an account with Transferwise before you board a plan for Thailand. We also use Payoneer to accept our international affiliate payments.
And then beyond that, you can get a local Thai bank account —withdrawals are free, and I'll explain how to go about that later in this post.
Choose the Right Bank Back Home
It's a big world, so look for banks with little or no international withdrawal fees. For everything else, there's Transferwise or Payoneer with its debit MasterCard.
I definitely can't keep up with bank options for every nationality, but Germans might want to check out DkB or Revolut, Americans will want to pick up a Charles Schwab bank account, N26 is pretty alright for Europeans, and for most other folks there's a special HSBC Bank account for expats as long as you keep a specific minimum balance.
Know When to Haggle
Typically, people do not haggle over the cost of prepared food but it is common place to haggle over prices at the many markets throughout Chiang Mai.
You're viewed as a giant ATM by many, so don't give in too easily; just keep it playful and if you're not satisfied with the price they offer, politely decline and start to walk away –if they were going to drop the price, this is when they'll do it.
Don't Tip
No, really. It's not customary in Thailand and unless you're at a top-drawer Western establishment or a tourist trap, tipping is very rarely expected. Some folks will even hand it right back to you because they don't take handouts.
Just be nice to people instead, and exercise this suggestion at your own discretion.
Charge More
When was the last time you reviewed the going rate for your services? The last programmer I challenged to double his rate got 500% more work.
He was able to work less, choose projects thoughtfully (not desperately), and double down when he wanted to move around.
Don't ask people in your field for advice on your rate, call an agency and ask what their hourly rate is for what you do —or some sort of organization that does what you do. In my experience, programmers are afraid of money. No one knows everything, learn as you go.
Hell, forget the phone call and just start by raising your rate by $10/hr. and see what happens.
Don't Get Fines
Thai police are really good at extor.. er.. —serving you fines randomly, or en masse in sweeping campaigns in tourist areas.
They generally target foreigners who are riding motorbikes without a license (from your home country, local, or international), without a helmet, or for dropping cigarette butts on the ground.
Fines start around 500 baht and depend on the day, season, IQ, and astrological sign of your fine issuing police officer.
Think in Baht
Do not think about how much money you're saving with every purchase over its associated cost in your home country –this is a sure-fire way to go broke faster than anticipated.
Instead, keep track of your money and the average cost of items you purchase often. This will help bring you closer to the day you are able to finally "think in baht".
I strongly suggest downloading either Trip Wallet or Trail Wallet for your smartphone –these apps are indispensable for budgeting across different currencies.
Housekeeping
Hire your house cleaner to pick up your groceries for you, and you'll always get the best price.
You might need a local friend to help you write your shopping list in Thai, but it's worth the trouble.
There's a two-tier pricing structure in small shops; one price for you, and one for everyone else. If you get a local to shop for you, it's not you asking the price of those mangosteens. Asking your cleaning lady to pick up groceries is convenient and pays for itself and then some. (It's also great for finding those rarer items).
Usually you're paying for time so it doesn't matter whether it's for cleaning or for picking up groceries. Most cleaners are down for getting groceries, it sure beats cleaning. It's sort of like calling a cab company back home to pick up something from the store; it isn't always an advertised service but there's no harm in asking.
Skip the Bar
You're surrounded by awesomeness everywhere, all over the place and back again. If you're broke, surely you can find a place to sit down with some good friends for a drink without paying bar drink costs. You might even be able to score a little cheebs to help it go down.
Sleep in a Temple
If you're real hard up, you can always check yourself in to the Doi Suthep Vipassana Meditation Center, high atop Doi Suthep with a great view of the city. The cost is an undefined donation.
And I'm mostly kidding about taking a meditation course to get a free place to stay (and some small basic meals) –I'd suggest this to anyone looking to unplug for a while and become more acclimated to the local culture as well.
But if you did, you might be able to rent out your Chiang Mai apartment to a fellow expat while doing so.
Wear Dark-ish Colored Clothing
While cotton tee shirts don't fare so well in the tropics and I have previously suggested Merino Wool, I also suggest wearing darker colors like navy blue, black, brown, and so on (especially if you're sloppy with chopsticks or wear a lot of antiperspirant).
A friend visiting America once came back to Chiang Mai and surprised me with my favorite white V-neck tees I used to wear every day back home —they lasted 4 washes before I tossed them.
Air Asia ASEAN Pass
Air Asia currently has a ridiculously low-priced prepaid flight ticket to anywhere in the Association of Southeast Asian Nations. If you've been meaning to travel around Asia but have been restricted by your budget: Not anymore.
In order to learn more about their ASEAN-wide promotion, visit their website.
Save Money on Vaccinations
In addition to routine immunizations for your country, it is also advised by the Canadian government that you undergo the following immunizations before you enter Thailand.
Note that vaccinations in italic are suggested in vaccination categories like Food and Water Borne Diseases, Malaria, or Routine Vaccinations. They are all on the official list issued by the Canadian government linked to above.
Thailand Vaccinations
Hepatitis A ($65)
Hepatitis B ($40)
Influenza ($30)
Typhoid ($45)

Japanese Encephalitis ($230)
Measles ($200)
Malaria (Prices subject to change)
Rabies ($210)
Yellow Fever ($150)
Diphtheria/Tetanus/Polio/Chicken Pox ($45)
These Thailand vaccination prices are based on vaccination cost in Canada, so you may find that vaccines are cheaper or more expensive in your own country.
And it's a lot of money. Over $1,000 for Thailand vaccinations.
Vaccinations are Cheaper in Thailand
I did it a little differently. I got the top 3 Thailand vaccinations (Hep A, Hep B, Typhoid) in Canada and paid Canadian prices. When I made a comment about costs for the lesser probable diseases, my medical practitioner let me know that she is aware of a number of seasoned travelers who get the same vaccines at drastically lower costs in the countries they visit. Same vaccines.
So I looked around and the price list for the remaining Thailand vaccinations now looks more like this:
Japanese Encephalitis ($35 – $65)
Rabies ($13)
Yellow Fever ($40)
Diphtheria/Tetanus/Polio ($22)
And some additional Thailand vaccine prices:
HPV (Gardasil) ($81)
Typhoid ($11)
Cholera ($19)
Influenza ($12)
These Thai vaccine prices are approximate, but you get the idea. It may be in your best interest to explore getting some of your Thai vaccines (in remaining Thailand vaccine list above) after arrival at Chiang Mai Ram Hospital.
Exclusive Flexjobs Discount
Hobo with a Laptop readers get an exclusive discount on FlexJobs for reliable remote job opportunities –use the NOMAD promo code to receive the following discounts:
$44.95 for 12 months of FlexJobs (10% off)
$23.95 for 3 months of FlexJobs (20% off)
$9.95 for 1 month of FlexJobs (30% off)
Learn how to get your first entry-level remote job with our how-to guide here.
Visit FlexJobs
Best Time to Visit Chiang Mai
Chiang Mai is the cheapest place to live in Thailand (that isn't too "country"), and Chiang Mai, for me, is the best place to live in Thailand for a longer period of time.
When you choose the right time.
There's a big black smokey hole on the calendar when it comes to the best time to visit Chiang Mai Thailand.
There is really only one time of year that I suggest not coming to Chiang Mai for your first time around, and that's burning season.
Every year, sporadically from mid-February to mid-April, the city of Chiang Mai is engulfed in smog created by local rice farmers who are cleaning off previous crops, weeds, and weed seeds from their fields with fire.
Sure beats using chemicals, but it can be incredibly unpleasant for allergy sufferers and people sensitive to smoke in the surrounding area. It is not ideal to experience Chiang Mai for the first time through watery eyes.
Chiang Mai Thailand is located in the country's northern regions where rice farming is one of the main economic contributors. Burning season starts off with watery eyes and a reduced view of the surrounding mountains, and occasionally progress to extremes like obstructing your view less than 100 feet in front of you and forcing you to keep windows closed during the day.
The visibility is worse than a 1980's music video, when dry ice was cool.
Some years, farmers make a solid effort to do a controlled burn that has less effect on surrounding areas, sometimes not.
Most people in good health will consider it an annoyance, but not a detriment to their health. Others who are more sensitive to air pollution may want to head south to beach country for a few weeks.
Many Digital Nomads temporarily migrate south or to neighboring countries during burning season and welcome the opportunity. A lot of people plan small Exodus' and rent a place together down south for a month.
My favorites in Thailand are Ao Nang, Krabi, and some of the quieter islands like Koh Lanta. The cost of a flight to Krabi is under $90 and within hours you can go from smog to beach.
A small price to pay for living in Chiang Mai; 11 months out of the year isn't so bad for a culture that prides itself on location independence.
Real-Time Air Quality Index
Once you're here and understand what the air quality is like from one season to another, you may find this tool useful. The pollution indices and color codes available on this website follow the EPA graduation, as defined by AirNow. They've also got an app in every major app store.
To put it into context, the pollution in Chiang Mai during burning season is much lower than areas north of the city and in neighboring countries.
Peak Holidays
Unless you arrive in advance of these peak tourist holidays, I wouldn't recommend winging it and arriving without reservations booked well ahead. Demand for accommodation increases dramatically, and so do prices. I've met my fair share of backpackers passing through, scrambling to find a place to stay. Not a good scene.
December 21 – January 3: Christmas and New Year's Eve for Westerners
February 19 – 21: Chinese New Year celebrations for Chinese Tourists
April 13 – 15: Thai New Year celebrations "Songkran"
NomadList will provide you with some background for when to go, as well as providing new options for where to go after you're more comfortable living in Chiang Mai Thaiand. After Chiang Mai, the world is your playground. Some say it's not the most accurate, so cross-reference information between sources.
You can find all of Thailand's public holidays on Time and Date. Back in 2015 I got permission to use the "before and during" burning season image above and I've since lost the name of the photographer; if that's you, please comment below and I'll update the article.
How to Setup a Mobile Phone
To save Chiang Mai digital nomads a whole bunch of confusion, sifting through websites written in Thai, and trial-and-error I will give you exact directions on how to setup your unlocked mobile phone for use in Thailand with AIS.
Worth mention; cell phone carriers have been tasked by the government to facilitate the collection of personal details (name, passport number, nationality, etc.) to obtain a mobile phone number so have your passport ready.
Common Thai Mobile Plan Information
Incoming calls are typically free (even for a while after you let your plan expire)
Text messages are usually not included with the cost, so use a chat app
Data plans are "unlimited"; top speed until a certain amount of usage, and then capped at Edge speeds from there on in
Some plans also include unlimited city-wide WIFI with your purchase and will SMS you with your login information after you purchase your plan
AIS has better reach, data speeds, and performs better than other competitors in rural areas. CAMP in Maya Mall also uses AIS WIFI, and is your best WIFI option in terms of a coworking space (that likely won't close like the infamous Coffee Monster did) which is why I am focusing strictly on them.
Lastly, as you know most phone plans are subject to change, however as of March 2019 they're working just fine.
Setting Up Hardware
First, turn your phone off, insert your SIM, and power up. Once your phone boots up you will need to put credit onto your phone before you can activate a plan. If you are asked for a SIM security code, the default is 0000.
Let's look at plans first, then refill codes, and then finally plan codes.
How to Set Up AIS Voice and Data Plans (in English)
AIS Balance Refill
Once you've selected a plan, you can purchase balance refill vouchers from 7-Eleven. They come in different denominations so you may need to use more than one voucher before activating a plan.
To add the credit voucher dial *120* then the 16-digit code on your voucher, the # sign and press <Call/Send>. e.g. *120*1234567898765432# SEND
After that, your balance will appear on screen. Repeat with another voucher if needed until you have enough to activate your plan.
You can also check your balance on-screen anytime by entering *121#.
AIS Prepaid Plan Activation
This one is simple! All you need to do to activate an AIS prepaid plan is type the code that corresponds with your plan above.
For example;
If you'd like the to activate the plan with 500 outgoing minutes, 3 GB high-speed data (unlimited after that 3 GB runs out, just slower) then type in the following code;
*777*54# SEND
And you're finished!
Before your plan expires, AIS will send you an SMS message informing you the day and exact time your next month will try to activate. This makes it easy to ensure you've topped up your balance prior. If you miss your window and it gives up, no worries –just re-enter your plan code after your next refill.
Have your own plan codes you'd like to share? Please let everyone know in the comments at the end of the article.
Thai Driver's License Information
If you're prepared with an International Driver's License –wonderful. If you're not, no worries. You can rent a motor bike with your local driver's license from back home.
Two Sides of the Story
On one hand; 99% of the people I meet here rent motorbikes without ever being asked to produce a local driver's license from back home at either bike shop or police checkpoints.
It is assumed you have one. I'm also talking about a hand full of people who count time in Thailand in the decades.
Legally speaking if you'd like to ride that motor bike longer than 60 days in Thailand, you require a Thai driver's license by law. However, I am told that this time frame resets with your visa. Leave the country, clock is reset.
Yes, you can get yourself a Thai driver's license as a foreigner.
I've never met anyone who's encountered any trouble while driving a motorbike in Thailand without a local Thai driver's license past 60 days in Thailand.
However, there still is a small chance you will get a nice fine for doing so, and a Thai driver's license would make a pretty great memento of your life in Thailand, wouldn't you agree?
You can also rent a car without a Thai driver's license. However, for long term Thai living (if you're an actual resident on a long-term visa such as a Retirement Visa), or if you would like to purchase a car, you will need a Thai driver's license.
If you'd like to learn more about getting a driver's license down the road, please visit Chiang Mai Buddy's article on the subject.
So few opt to get a Thai driver's license, I figured I would save my breath and leave it to the professionals.
Where to Find a Motor Bike Rental
Generally speaking, you can rent semi-automatic moped-style motorbikes in Chiang Mai for 150 baht per day, automatic motorbikes for 200 baht per day, and full-on motorcycle "big bikes" for 1,500 baht per day at your average motorcycle rental in Chiang Mai.
The longer the contract, the better the deal. Monthly rates start at 2,000 baht per month.
If you need insurance, make sure that your policy covers it. We wrote a guide that compares Safetywing and WorldNomads, learn more about digital nomad insurance.
Every bike rental shop you rent from will request your passport to ensure that you will return the bike, so make a photocopy beforehand. It isn't exactly legal practice in your home country and if it makes you uncomfortable doing so, ask them if you can pay a deposit instead.
Each of these Chiang Mai bike rental shops have been tried and tested by myself, and my peers. I didn't just open a phone book or do an online search; these are all referred to me by people I know and trust. I provide no guarantees you won't run into trouble, but it's better than fending for yourself.
Rent a Motorbike
in

the Old City

I am going to give you a handful of bike rental shop locations all over town to keep this evergreen. At this stage, you're in Chiang Mai's Old City, so an Old City bike rental shop is what you're currently looking for.
Happy Days Bike Shop Chiang Mai
88, Chaiyapoom Rd
Open 9am to 8pm
Telephone / Whatsapp: +66 81 783 7703
You can find their website here
Happy Days Rent Motor Bike Chiang Mai is conveniently located a few feet from Spicy and Tha Phae Gate (that's in the general area where most red trucks will drop you off after you arrive from Arcade Bus Terminal) –right on the other side of the moat near the upper right hand side of the old city.
One massive perk with renting a bike from this shop is that their website has livechat, and you can rent a bike in Chiang Mai online.
This bike rental shop is run by Nutchuda, a friendly local who speaks fluent English, a big plus; the shop mostly rents new-ish automatic scooters from Honda and Yamaha.
Mr. Beer Bike Rentals
2 Rajvithi Road
Open 9am to 5:30pm
Mr. Beer is a Chiang Mai motorbike rental that has some higher-end bikes in the neighborhood of 650cc, but his specialty is in automatic moped-style motorbikes. He doesn't have a website, however he's located between Zoe's and Bamboo Cafe –nice and close to where you currently are. I've rented from him before, he's a reasonable man.
Tony's Big Bikes
17 Ratchmamanka Road
Open 9am to 5:30pm
You can find their website here.
Tony's is a great motorcycle rental Chiang Mai. Bikes and prices range from Honda Click Auto 110cc at 200 baht per day, to the flashy Kawasaki Versys 650cc big bike at 1,800 baht per day. I have not rented from Tony's, but I've heard enough positive comments enough to know he's got a lot of business, good quality bikes, and seems trustworthy.
Rent a Motorike
Outside

Old City

When you switch neighborhoods, you'll likely want to change bike rentals. Here are a handful of bike rental shops near Nimman and outside the Old City in Chiang Mai, Thailand.
Cat Motors
A small and reliable family company for a Chiang Mai motorbike rental. Their office of the company is conveniently located within the Nimman district. This one's great if you don't want to walk very far to rent a motor bike in Nimman, or leave your passport with a Chiang Mai bike rental; for a single person they request 3,000 baht deposit, and less per person if you're in a group.
Chang Phueak Gate
Open 8am to 6pm
You can find their website here, give them a call at 090 729 9090, or message them on Line app at 'catmotors'.
Red Ride
I am told by my friend James that Red Ride is the most affordable place to pick up a reliable motorbike or big bike, and the big bikes are well maintained. The owner of the shop even special ordered a helmet for his giant head to ensure safety.
Vanessa's Motorbike Hire
161 Huay Kaew Road, Soi Chang Khain
You can find their website here.
Vanessa's Motorbike Hire is quite popular, with high quality bikes that get cheaper to rent the longer you rent them. Any rental 3 days or longer can save you 50 baht per day, and monthly rentals range from 2,000 baht to 3,000 baht per month.
Mango Bike Rental
Srithana Condo 2, Siri Mangkalajarn Rd, soi 1
Open 9am to 6pm
You can find their website here.
Operated by a friendly foreigner, Mango Bike Rental has a wide range of bikes at reasonable prices; semi-auto motorbikes from 150 baht per day, and auto bikes for 200 baht per day. Monthly costs range from 2,300 baht to 2,500 baht per month. And right before publishing this book I learned that Mango will only request a photocopy of your passport and not hold your actual passport like most other Thailand-based bike rental shops do.
Purchasing a Bike in Thailand
Chiang Mai digital nomads who intend on living in Thailand long-term you can cut costs dramatically by buying a motorbike instead of a continuous motorcycle rental in Chiang Mai –and then selling it before you leave. In Thailand motorbikes and cars retain their resale value much more than back home, wherever that might be.
If you're staying for 3 months+ buy a used bike for 10,000 to 30,000 baht instead. You can find used bike deals in the following Facebook groups, just make sure your bike comes with a proper Green Book;
Where to Find Accommodations
Chiang Mai Hotels, Resorts & Guest Houses
We've curated some of the best, cheap hotels in Chiang Mai for Hobo with a Laptop readers:
Chiang Mai Furnished Apartments
There are countless Chiang Mai apartment options available, here are a handful of apartments to begin your search with.
Nimmanahaeminda Road (aka Nimman, or Nimmanhaemin) and its surrounding area is the best place to live in Chiang Mai if you're a digital nomad. It's a slightly newer neighborhood, it's clean, lots to do, is located near Immigration and the airport, and it has everything a Westerner needs to feel at home.
The locals which live in this neighborhood are a little more "hi-so" (high society) and you'll see some nice sports cars from time to time.
The average cost is 6,000 baht to 14,000 baht per month, although if you're looking for deals, they are out there.
Whether you'd like to be a little more frugal in the beginning or jump right into living lavishly, there are options here for any budget. Each of these suggestions are either from my own experience, or the experience of a fellow Nomad. No cold suggestions, however conditions or pricing may change with demand and popularity.
I recommend visiting each place in person and taking a week or two to make the right choice. Calling around can prove difficult when you're not able to use your hands and play charades while speaking.
Also worth mention that there are a number of really lush yet affordable lofts tucked above businesses, so keep your eyes peeled.
These are merely suggestions for first-time nomads –not everyone likes to live in the "Nimman bubble" forever. After a while, find another, less Westernized neighborhood to explore and live in. You'll be glad you did.
Residence SG
Close to Wat Chet Yot
6,000 baht to 8,000 baht per month + utilities
My favorite first choice (especially when recording video!) because it is as quiet as it is brand new. These air-conditioned apartments come fully furnished and include a small kitchen with a refrigerator.
Currently they don't have a website, although their Facebook page has some decent photos and contact information. Compare pricing with Agoda and Booking.com.
Srisuwan Mansion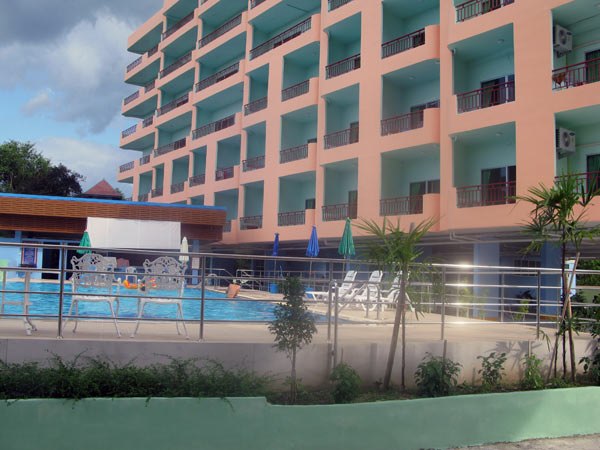 Maekuamoong Road
6,000 baht to 9,000 baht per month + utilities
These air-conditioned apartments are somewhat basic and a little more "Thai style", with a tiny kitchen area and a sink on their balcony (which is not uncommon here). The balconies are massive, and the price range varies based on their size/configuration. It's also got a pool which requires 500 baht per month to access it, or 60 baht per day –small price to pay. You can find rental information here.
View Doi Mansion
36 Morakot Rd., T.Chang Phuak, A. Muang, Chiang Mai
6,000 baht per month + utilities
Fresh, modern, and equipped with a great view, View Doi Mansion suites come with a desk, king sized bed, dining table, great internet connection (included), TV, good sized balcony with sink, and local laundry facilities. You can find rental informatione here.
Green Hill Place
45/38, Moo.5, Super highway Road, T. Changperk, A. Muang Chiang Mai
9,000 baht to 25,000 baht per month, 2 bedroom apartments up to 27,000 baht per month
Green Hill Place has a number of different air conditioned options and configurations, from standard room to a larger suite with a small kitchenette. It's got a gym, swimming pool, business facilities, convenience store, water delivery and is all quite new and open. Cleaning service available for 300 baht to 900 baht per week depending on the size of your suite. You can find rental information here.
Hillside Condo 2 – 3
Soi 10, Nimmanahaeminda Road, Suthep, Chiang Mai
11,000 – 14,000 baht per month + utilities
There are a few "Hillside" condos in Chiang Mai spread around the city. Hillside Condos' 2 and 3 are located directly on Nimmanhaemin Rd, surrounded by co-working spaces and restaurants in the heart of Nimmanhaemin. This location also has a fitness center, laundry service, and apartments come equipped with a kitchen. You can find rental information here.
Hillside Condo 4
50/24 Huay Kaew Rd., Muang, Chiang Mai
14,000 baht per month + utilities
Hillside Condo is in between two popular shopping destinations; Maya Mall and Kad Suan Huay Kaew Shopping Center, and is only 10 minutes from Nimmanhaemin Rd. Apartments here have air-conditioning, a kitchen with refrigerator, and the building has an excellent swimming pool. Internet access is an additional 700 baht per month. You can view their website here.
Chiang Mai Lodge
7 Ratchpruak Rd., Huay Kaew, Tambon Suthep, Amphoe Chiang Mai
6,000 baht to 36,000 baht per month
Apartment residences in the junction of Huay Kaew and Santitham equipped with wireless internet, cable television, laundry, restaurant, coffee shop. Clean, good location. Compare pricing with Agoda and Booking.com.
Sakulchai Place
10 Soi. Plubplung T.Changhuak District Muang Chiang Mai
5,250 baht to 20,000 baht per month
Sakulchai Place has a swimming pool, fitness room, patio, restaurant, and it's pretty darn comfortable. Compare pricing with Agoda and Booking.com.
Kantary Hills
Soi 12 Nimmanahaeminda Road, Chiang Mai
54,000 baht per month
If you're a little more financially comfortable and have no objection to paying similar rent costs as you did back home (and live really well) Kantary Hills is for you. I didn't want every option on my list to be a "value option" because not everyone reading this guide is looking for one.
Living in one of Kantary Hills' fully furnished apartments is like living in a hotel; pool, sauna, business facilities, daily cleaning service, decent buffet breakfast, Wi-Fi, and each apartment comes with a small living room and a kitchenette. Compare pricing with Agoda and Booking.com.
Perfect Homes (Directory)
If you didn't find an apartment in Chiang Mai that you like on this list, check out Perfect Homes for a broader selection.
If you don't have luck with Perfect Homes, give FazWaz a go.
Where to Find a Gym
Chiang Mai has an active fitness community with just about anything you may be looking for. Membership pricing and location information at fitness facilities change often, so please visit each website or location to learn more. Here are a few gyms to get you started.
Hand to Hand Combat School Chiang Mai
63/15 Tambon Watket Ampure, Mueng Chiang Mai
I mentioned this school in the Education Visa section post, you can visit their website here.
CrossFit Chiang Mai
48/1 Un Ari Soi 1, Mueang Chiang Mai
You can visit their website here.
Power House Gym
Su Thep, Mueang Chiang Mai District, Chiang Mai
Near Nimman, you can visit their Facebook page here.
Harris Fitness Centre
Lotus Pang Suan Kaew Hotel 6th floor, Muang Chiang Mai
You can visit their Facebook page here.
City Gym Chiang Mai
Photharam Rd. soi 9 Last house on the right, Chiang Mai
You can view their Facebook page here –only 60 baht per day.
Go Gym
Chang Phueak, Chiang Mai
You can view their Facebook page here.
Where to Find Health Services
In this section we will cover a key Chiang Mai hospital, a really great English-speaking medical clinic, gym facilities, acupuncture, and chiropractic services.
There are services like this all over the city, so I selected these options based on how many times I have seen them referred to within the Chiang Mai Digital Nomad community. Another factor in choosing these resources included how "English friendly" the organization was.
Chiang Mai Ram Hospital
8 Boonreungrit Rd., A.Muang Chiang Mai
Tel. 66-53-920300 Fax. 66-53-224880
Chiang Mai Ram Hospital has a number of specializations as well as being your best bet for standard blood tests, health checkups, and STD tests.
Some of Chiang Mai Ram Hospital's specializations include;
Cardiac treatment for adults and children
Stroke treatment
Oncology, Cancer treatment
Gastrointestinal treatment
Diabetes treatment
Allergy treatment
Neurological treatment
Psychiatry
Varicose vein treatment
Ear, nose, throat treatment
Gynecology
Dental
Chiang Mai Ram provides world-class health services and is also a Medical Tourism destination. You can find information online here.
Health Care Medical Clinic (HCMC) – Dr. Morgan
275 M.6 Chiangmai-Hangdong Road Tambon MeaHia, Muang District Chiang Mai
Office Hours: Monday-Friday 08.30-19.30
Saturday 8.30 – 13.00 Closed on Sunday
Tel & Fax: 053-804405 Clinic Mobile: 08-27668672
You can find their website here.
Referred by many Digital Nomads for Dr. Morgan's excellent English skills and professional ability, HCMC can help you with;
Blood sugar monitoring
Blood tests
Injection and IV drip
Wound dressing
Complete medical checkup
Vaccinations
X-Ray
Chiang Mai Chiropractic Clinic
316/1 Chiang Mai – Lamphun Road, Tambol Watkate, Amphur Muang, Chiang Mai
Hours: 9:00 to 16:00
You can find more information here.
Best known for:
English speaking Foreigner, Dr. Philip Parry
Great service for every physiology (athletic, large, thin, fragile)
Mungkala Chinese Medicine Clinic (Acupuncture)
21 Ratchamanka Rd. Muang Chiang Mai
You can view their website here.
Best known for:
Speaks many languages
Knowledgeable practitioner
Nimman Dental Clinic
Nimmanhaemin Soi 1, Chiang Mai
Mon – Sun: 09:00 to 20:00
Best known for:
Full mouth cleaning and polishing: 600 baht – 1,000 baht
Root canal: 4,000 baht – 8,000 baht
Full gold crown: 18,000 baht (just to give you an idea, regular crowns start at 7,000 baht)
How to Open a Thai Bank Account
Getting a Bangkok Bank account is simple although if you don't succeed the first time, try, try again. It's like phoning a call center; sometimes you need to try another representative.
Before You Open a Thai Bank Account
I'm a big fan of Payoneer and Transferwise Borderless Banking for international expat banking because they solved a lot of the problems I was trying to mitigate by banking with a local bank here in Thailand:
Create a "virtual" bank account in several countries and get a debit Mastercard for them
Accept payments in 28+ local currencies
Ship your cards anywhere in the world, even your apartment in Thailand
Destroys PayPal in terms of fees, features, and support
Works outside Thailand; you're screwed if you lose your card in another country with a Thai bank
You can learn more about Transferwise by reading a post I wrote here, or you can keep reading this one to figure out how to get a Thai bank account.
Why You Might Want a Thai Bank Account
No ATM withdrawal fees
No conversion rate fees
Combined with PayPal, it's the easiest way to transfer spending money in and out of the country (this is why I switched to Transferwise)
Bangkok Bank Account Requirements
It is possible to acquire a bank account with the following paperwork although I was turned away on my first attempt.
Requirements to get a bank account at Bangkok Bank on a Tourist visa:
An identity card issued by a government institution or university such as: Your driver's license, Passport, Foreign Identification Card, University Student/Professor Card.
A letter of recommendation from Embassy, International Organization, Customer's home bank to Bangkok Bank via the SWIFT message, a person acceptable to Bangkok Bank (such as BBL staff, customer, government officer, company executive, private firms), or home country institutions (such as pension receipt).
Other documents showing your name such as: Bank Statement, lease agreement, utility bill, documents showing owners of a fixed asset or Condominium Sale/Purchase Agreement.
The key: Utility bill, which is easy to get when you get yourself an apartment.
Bangkok Bank Savings Account Information
Minimum 500-baht deposit
Your plastic bank card will cost 200 baht
Calculated interest paid every 6 months
Dormant accounts with less than 2,000 baht suffer additional monthly fees
Be1st Visa debit card can shop online, pay bills, withdraw cash, and has greater security features
Download the Free Phrase Cards
.
You'll be automatically subscribed to our newsletter when you provide your email to Gumroad. Direct download
.
The End?
Well, that's a wrap to this Chiang Mai Digital Nomad guide. If you found it helpful, please don't hesitate to share it. If you found anything that needs a correction or more explanation, let us know.
What do you think? Is Chiang Mai the "Paris of the East"? What other digital nomad destinations are on the top of your list? We'd love to hear from you in the comments.