Where to Find Furnished Apartments in Chiang Mai
There are countless apartment options available in Chiang Mai, here are a handful of apartments to begin your search with.
Key Neighborhood
Nimmanahaeminda Road (aka Nimman, or Nimmanhaemin) and its surrounding area is the best place to live in Chiang Mai if you're a digital nomad. It's a slightly newer neighborhood, it's clean, lots to do, is located near Immigration and the airport, and it has everything a Westerner needs to feel at home.
The locals which live in this neighborhood are a little more "hi-so" (high society) and you'll see some nice sports cars from time to time.
The average cost is 6,000 baht to 14,000 baht per month, although if you're looking for deals, they are out there.
Apartments in the Nimmanahaeminda Area
Whether you'd like to be a little more frugal in the beginning or jump right into living lavishly, there are options here for any budget. Each of these suggestions are either from my own experience, or the experience of a fellow Nomad. No cold suggestions, however conditions or pricing may change with demand and popularity.
I recommend visiting each place in person and taking a week or two to make the right choice. Calling around can prove difficult when you're not able to use your hands and play charades while speaking.
Also worth mention that there are a number of really lush yet affordable lofts tucked above businesses, so keep your eyes peeled.
These are merely suggestions for first-time nomads –not everyone likes to live in the "Nimman bubble" forever. After a while, find another, less Westernized neighborhood to explore and live in. You'll be glad you did.
Residence SG
Close to Wat Chet Yot
6,000 baht to 8,000 baht per month + utilities
My favorite first choice (especially when recording video!) because it is as quiet as it is brand new. These air-conditioned apartments come fully furnished and include a small kitchen with a refrigerator.
Currently they don't have a website, although their Facebook page has some decent photos and contact information. Compare pricing with Agoda and Booking.com.
Srisuwan Mansion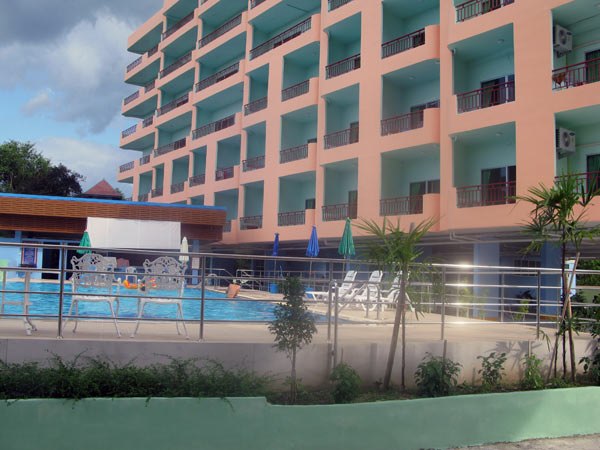 Maekuamoong Road
6,000 baht to 9,000 baht per month + utilities
These air-conditioned apartments are somewhat basic and a little more "Thai style", with a tiny kitchen area and a sink on their balcony (which is not uncommon here). The balconies are massive, and the price range varies based on their size/configuration. It's also got a pool which requires 500 baht per month to access it, or 60 baht per day –small price to pay. You can find rental information here.
View Doi Mansion
36 Morakot Rd., T.Chang Phuak, A. Muang, Chiang Mai
6,000 baht per month + utilities
Fresh, modern, and equipped with a great view, View Doi Mansion suites come with a desk, king sized bed, dining table, great internet connection (included), TV, good sized balcony with sink, and local laundry facilities. You can find rental informatione here.
Green Hill Place
45/38, Moo.5, Super highway Road, T. Changperk, A. Muang Chiang Mai
9,000 baht to 25,000 baht per month, 2 bedroom apartments up to 27,000 baht per month
Green Hill Place has a number of different air conditioned options and configurations, from standard room to a larger suite with a small kitchenette. It's got a gym, swimming pool, business facilities, convenience store, water delivery and is all quite new and open. Cleaning service available for 300 baht to 900 baht per week depending on the size of your suite. You can find rental information here.
Hillside Condo 2 – 3
Soi 10, Nimmanahaeminda Road, Suthep, Chiang Mai
11,000 – 14,000 baht per month + utilities
There are a few "Hillside" condos in Chiang Mai spread around the city. Hillside Condos' 2 and 3 are located directly on Nimmanhaemin Rd, surrounded by co-working spaces and restaurants in the heart of Nimmanhaemin. This location also has a fitness center, laundry service, and apartments come equipped with a kitchen. You can find rental information here.
Hillside Condo 4
50/24 Huay Kaew Rd., Muang, Chiang Mai
14,000 baht per month + utilities
Hillside Condo is in between two popular shopping destinations; Maya Mall and Kad Suan Huay Kaew Shopping Center, and is only 10 minutes from Nimmanhaemin Rd. Apartments here have air-conditioning, a kitchen with refrigerator, and the building has an excellent swimming pool. Internet access is an additional 700 baht per month. You can view their website here.
Chiang Mai Lodge
7 Ratchpruak Rd., Huay Kaew, Tambon Suthep, Amphoe Chiang Mai
6,000 baht to 36,000 baht per month
Apartment residences in the junction of Huay Kaew and Santitham equipped with wireless internet, cable television, laundry, restaurant, coffee shop. Clean, good location. Compare pricing with Agoda and Booking.com.
Sakulchai Place
10 Soi. Plubplung T.Changhuak District Muang Chiang Mai
5,250 baht to 20,000 baht per month
Sakulchai Place has a swimming pool, fitness room, patio, restaurant, and it's pretty darn comfortable. Compare pricing with Agoda and Booking.com.
Kantary Hills
Soi 12 Nimmanahaeminda Road, Chiang Mai
54,000 baht per month
If you're a little more financially comfortable and have no objection to paying similar rent costs as you did back home (and live really well) Kantary Hills is for you. I didn't want every option on my list to be a "value option" because not everyone reading this guide is looking for one.
Living in one of Kantary Hills' fully furnished apartments is like living in a hotel; pool, sauna, business facilities, daily cleaning service, decent buffet breakfast, Wi-Fi, and each apartment comes with a small living room and a kitchenette. Compare pricing with Agoda and Booking.com.
Didn't Find a Chiang Mai Apartment You Like?
If you didn't find an apartment in Chiang Mai that you like on this list, check out Perfect Homes for a broader selection.
We've also got more Chiang Mai digital nomad posts, check 'em out!
Did you find this post helpful? If you did, pin one of these!